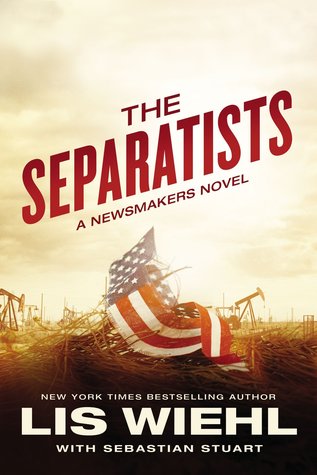 When America is threatened from within on a scale not seen since the Civil War, Erica Sparks is on the front lines reporting. But what can she do to stop it?
Star newsmaker Erica Sparks is in Bismark, North Dakota, covering the first recall of a governor in that state since 1921. Mary Bellamy, who is trying to unseat the current governor, keeps talking about going through the political process to gain more freedom for the state. She seems peaceful and level-headed . . . but with other secessionist groups making noise around the country, Erica can't help but wonder what Mary's goal really is.
Then Erica receives a desperate call from a woman downstairs in the lobby of her hotel. Erica goes down to meet her and discovers the woman in the ladies room with her throat slit. There's obviously more going on here--and someone doesn't want Erica looking below the surface.
Meanwhile, Erica's marriage to Greg Underwood seems headed for disaster . . . and her relationship with her teenage daughter Jenny may not be far behind.
Erica feels a civil war looming in her own home, and all the signs indicate that military action will be required in North Dakota. And then she discovers that the threat to all Americans is even greater than anyone imagined. Can she find the answers to save her family and her country in time?
My Thoughts:
The thing about this series - the stories seem so far fetched from reality, yet they could easily become reality with not a lot of imagination. Because of that, these books entertain me and scare me all at the same time!

I love Erica Sparks and the life she has created for herself. She is a star who seems to be larger than life with each book in this series. It seems trouble continuously finds her in her reporting and her desire to go after the truth always lands the ones she loves right in the line of fire.

Erica struggles between loving the life of fame and being the wife and mother she knows she needs to be. She loves her life and she is not afraid to admit it. I have mixed feelings about that part of her, but I still love her and would totally watch her if she was a real news personality.

This book deals with the whole concept that one of the states in our country has decided to become their own nation. As power goes to those creating the new country, we see their lives become a complicated web of lies, deceit, and death. Erica is right there in the midst of it all trying to make sense of who is responsible for what.

I won't tell you how this one ends, but it is intense and had me on the edge of my seat. Although this one can be read as a stand-alone, you will enjoy it much more if you check out the first two books to get the full background of many of these characters.