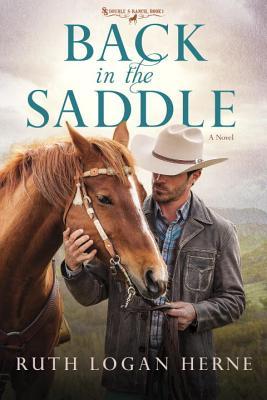 It's been a long time since Colt Stafford shrugged off his cowboy legacy for shiny Manhattan loafers and a promising career on Wall Street. But when stock market manipulations leave him financially strapped, the oldest son of legendary rancher Sam Stafford decides to return to the sprawling Double S ranch in Gray's Glen, Washington. He's broke, but not broken, and it's time to check in with his ailing father, and get his legs back under him by climbing into the saddle again.
He doesn't expect to come home to a stranger pointing a loaded gun at his chest— a tough yet beautiful woman that Sam hired as the house manager. Colt senses there's more to Angelina Morales than meets the eye and he's determined to find out what she's hiding...and why.
Colt's return brings new challenges. Younger brother Nick has been Sam's right-hand man at the ranch for years and isn't thrilled at having Colt insert himself into Double S affairs. And the ranch's contentious relationship with the citizens of Gray's Glen asks all the Stafford men to examine their hearts about what it truly means to be a neighbor. And as Wall Street recovers, will Colt succumb to the call of the financial district's wealth and power—or finally the courage to stay in the saddle for good?
My Thoughts:
It is rare to find me crying over a book, but a certain scene between a father and a son towards the end of this one had tears streaming down my face.
Colt is the son who left his family behind for the wealth of Wall Street. His mother died when he was only four years old, and his father pretty much failed at the single parent thing. It is no surprise Colt grew up with some emotional issues that left him wanting to prove something to himself and his family. Making a name on Wall Street was his answer to that desire – until it all came crashing down around him. As he arrives home to the Double S Ranch, we see a man who is broken, but unwilling to admit it to himself or anyone else. He is determined to see to his father, make a little money to tide him over, and get out of town. But what he finds at home changes everything.
Colt's father, Sam, has been a rough man all his adult life. After his wife had died, he failed miserably at parenting and at trying again for love. His actions left him with three emotionally broken sons, a huge ranch, lots of money and an entire town that pretty much hates him. The one person who seems to care anything about him is the mysterious house manager, Angelina. Angelina loves God and is not afraid to tell everyone about his goodness. It is through Angelina that Sam finds his way back to God. Sam gives up his sinful lifestyle and gets to work trying to right all the wrongs of his past.
As Colt forms a relationship with the people on the ranch and the people of the town, we slowly see him start to change. This change turns Colt into someone who can be trusted, and maybe even loved by those around him. He makes some remarkable decisions after a town tragedy and shows he is ready to take the next steps in bettering his life as well.
This book is filled with so much wonderful. We see the lost son finally come home. We see Christ working through a man who needs redemption. And we see God give second chances to his people. Of course, we also get some very happy endings and a longing for the next book in the series.
---
Ruth Logan Herne loves Charlie Brown Christmas trees, rooting for the underdog and people who go the distance while others see the path as too long or broken! She loves God, chocolate, writing, dogs and is blessed by a sprawling family, oodles of grandkids and a sweet old farmhouse in constant need of work. She's sure that clean rooms are over-rated, snakes and possums should mind their own business and buy their own farm and puppies and kittens and babies are about the cutest things on Earth. A "pull-up-your-big-girl-panties-and-move-on" kind of gal, she is blessed to be married to her high school sweetheart (although it wasn't as if THEY WERE KNOCKING DOWN THE DOOR to challenge him for her!!!), work with young families who allow her to exploit their sweet children on blogs, and rock babies on a regular basis. An author for Love Inspired Books and Summerside Press, she lives in upstate New York.