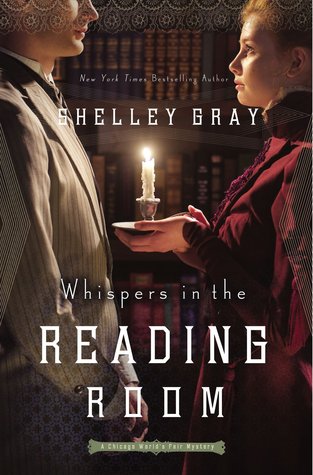 Lydia's job at the library is her world—until a mysterious patron catches her eye . . . and perhaps her heart.
Just months after the closure of the Chicago World's Fair, librarian Lydia Bancroft finds herself fascinated by a mysterious dark-haired and dark-eyed patron. He has never given her his name; he actually never speaks to a single person. All she knows about him is that he loves books as much as she does.
Only when he rescues her in the lobby of the Hartman Hotel does she discover that his name is Sebastian Marks. She also discovers that he lives at the top of the prestigious hotel and that most everyone in Chicago is intrigued by him.
Lydia and Sebastian form a fragile friendship, but when she discovers that Mr. Marks isn't merely a very wealthy gentleman, but also the proprietor of an infamous saloon and gambling club, she is shocked.
Lydia insists on visiting the club one fateful night and suddenly is a suspect to a murder. She must determine who she can trust, who is innocent, and if Sebastian Marks—the man so many people fear—is actually everything her heart believes him to be.
My Thoughts:
This book simply did not do anything for me. It has received some great reviews from many readers, but it was not for me.
I felt the characters were not very well developed. I had a very hard time connecting with any of them, as it seemed their actions constantly went against the character they were supposed to be. I felt their thoughts were not portrayed through their actions, and many of the character development was rushed.
I felt the story line jumped around a little too much, but did not take the time to fully develop any of the scenes enough for me to get involved in them. It seemed we would be reading about something one paragraph, and then on to something very different the next.
I realize this is a book in the middle of a series, so perhaps I would have enjoyed this one more if I had read the previous books in the series. Please search around and see what others have to say because many people love this book. Just not me.
Since 2000, Shelley has sold over forty novels to numerous publishers, including HarperCollins, Harlequin, and Abingdon Press. She has been interviewed by NPR, and her books have been highlighted in numerous publications, including USA Today and The Wall Street Journal.
Under the name Shelley Shepard Gray, Shelley writes Amish romances for HarperCollins' inspirational line, Avon Inspire. Her recent novel, The Protector, the final book in her "Families of Honor" series, hit the New York Times List, and her previous novel in the same series,

The Survivor, appeared on the USA Today bestseller list. Shelley has won the prestigious Holt Medallion for her books,

Forgiven

and Grace, and her novels have been chosen as Alternate Selections for the Doubleday/Literary Guild Book Club. Her first novel with Avon Inspire,Hidden, was an Inspirational Reader's Choice finalist.
Shelley also writes historical, western inspirational romances for Abingdon Press as Shelley Gray. Her first novel with Abingdon,

A Texan's Promise, was released in October 2011 and has earned glowing reviews.
In addition to her writing as Shelley Shepard Gray, Shelley has written a dozen novels for Harlequin American Romance under the pseudonym Shelley Galloway. Her first novel with Harlequin,

Cinderella Christmas, reached number six on the Waldenbooks Bestseller list, and her second book for the American Romance line,

Simple Gifts, won RT Magazine's Reviewer's Choice Award for Best Harlequin American Romance of 2006.
Before writing romances, Shelley lived in Texas and Colorado, where she taught school and earned both her bachelor's and master's degrees in education. She now lives in southern Ohio and writes full time. Shelley is married, the mother of two children in college, and is an active member of her church. She serves on committees, volunteers in the church office, and currently leads a Bible study group, and she looks forward to the opportunity to continue to write novels that showcase her Christian ideals.
When she's not writing, Shelley often attends conferences and reader retreats in order to give workshops and publicize her work. She's attended RWA's national conference six times, the ACFW conference and Romantic Times Magazine's annual conference as well as traveled to New Jersey, Birmingham, and Tennessee to attend local conferences.
Shelley is a member of RWA's Published Author chapter, ACFW, and the Faith Hope and Love Chapter of RWA. Please visit

www.shelleyshepardgray.com

to learn more about Shelley and her books.