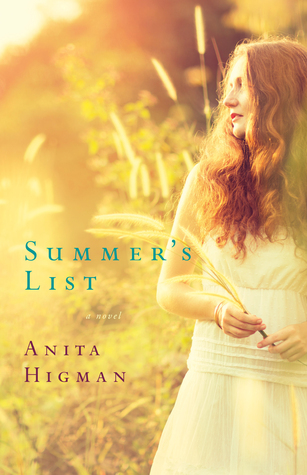 Life hadn't been easy for Summer Snow. In acts of selflessness-caring for her ailing parents and running her grandmother's bookstore-she had forfeited her youth and dreams for the needs of others. And the only tries she had at love... didn't turn out. She had the bookstore, she had her beloved granny, but she was missing something-or
someone
.
Opportunity strikes when Granny sends Summer on an unexpected adventure with one Martin Langtree, a kind but gangly young man from Summer's past. A childhood friendship is rekindled, a romance is sparked, and mysteries are solved in one magical Texas summer. Will Summer strike out on love again, or will things finally go her way?
With lovable characters and surprising twists,
Summer's List
is a simple delight.
My Thoughts:
I'm not sure how I feel about this book. There were parts I enjoyed, parts I hated, and parts that just left me confused.
Summer is a girl who seems to flounder. She is in and out of relationships, and seems to have a hard time making up her mind. She is dearly attached to her grandmother and will pretty much do anything Granny tells her to do. It bugged me that she was so willing to go strike up a relationship with someone she had not seen in 20 years, and expect him to just be there for her.
Martin is an odd fellow with a rough life. He is hated by his brothers, and is content to just stay out of their way and let them do what they want. It is obvious that he has been in love with Summer for most of his life, and his character immediately touched my heart. I wanted him to stand up for himself so badly, and I really loved the way he handled his brothers in the end.
Granny seems to be the only 'normal' person in this book. She and her husband raised Summer following the death of Summer's parents, and she would do anything in her power to make Summer happy. Granny is a true woman of God and her willingness to allow Him to have His way with her life was touching. She is determined to see Summer and Martin together, and her methods for achieving this are a little unconventional - but effective.
Again, I really have mixed feelings about this book. I enjoyed some of it, but found myself really having no feelings either way about the book as a whole.
---
CBA best-selling and award-winning author, Anita Higman, has twenty-nine books published (several co-authored) for adults and children, and she has seven books coming out in the next two years. She won a 2011 RWA Readers Choice Award (first place) and has been honored in the past as a Barnes & Noble "Author of the Month" for Houston. Her latest coauthored book, Love Finds You Under the Mistletoe, was on the Nielsen's best-seller list for five weeks for religious adult fiction and #6 on the CBA best-seller list for fiction (January, 2011). Anita's novella, Once Upon a Christmas Eve, was given a four-star review in Romantic Times Magazine.
Some of Ms. Higman's publishers are Guideposts/Summerside Press, Barbour Publishing, McGraw-Hill, Roman & Littlefield, Lillenas Drama, Abingdon Press, Standard Publishing, Bethany House, and Simon & Schuster/Howard Publishing.
A few of Anita's books are Love Finds You in Humble Texas, Another Stab at Life, The Celestial Helix, The Love Song (co-authored), Pokeweed and Mrs. Gasp, Who Will I be For the Rest of My Life? (co-authored), and Big Book of Holidays and Holy Days. She also has contributions in twelve nonfiction compilations.
One of Ms. Higman's co-authored books entitled, A Tribute to Early Texas, has a foreword by Elmer Kelton and has won a San Antonio Conservation Society Citation as well as a Westerners International Book Award. She was named a Favorite New Author in the 15th Annual Heartsong Presents Awards, and in the 16th Annual Heartsong Presents Awards her co-authored novel, Castles in the Air, was one of the winners in the Favorite Contemporary Romance category. Also Anita contributed to an animation script that won a Gold Remi Award.
Her novel, Love Finds You in Humble Texas, was chosen by Crossings Book Club and is now available in hardback and large print editions. Anita and the novel, Love Finds You in Humble Texas were featured on The Harvest Show, a Christian program with eight million regular viewers.
Ms. Higman has won two awards for her contribution to literacy and has raised thousands of dollars for literacy with her book, I Can Be Anything, while serving on the board of directors of Literacy Advance of Houston.
Anita Higman has written for radio, ezine, and advertising. She also cohosts a monthly blogtalkradio show at
www.InFaithNetwork.com
which is a part of Reader's Entertainment Radio and reaches an audience of 80,000. She has a BA degree combining speech communication, psychology, and art from Southern Nazarene University, and she is a member of American Christian Fiction Writers as well as The Writer's View.