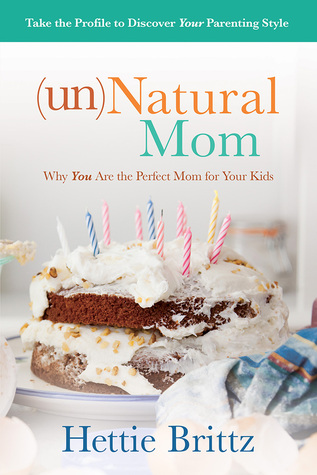 Do you feel like you're the only mom who serves store-bought birthday treats, dreads school plays, and misses the days of going to the bathroom by herself?
unNatural Mom
gives you permission to say that mothering doesn't always come naturally to you. Parenting expert and self-proclaimed unnatural mom Hettie Brittz helps you;
Recognize how unrealistic our culture's standards of mothering are
Move beyond the myths of "supermom"

Complete the Parenting Style Assessment to determine your own parenting style

Understand and forgive the mothers who hurt you

Embrace your capabilities as well as your challenges

Come find new hope in discovering that every mother has unique gifts. In Christ, the "unnatural" mom becomes the supernatural mom who is just right for her family!
My Thoughts:
I have read a lot of parenting books in recent years, but none of them have grabbed my heart quite like this one. I wore out my pen and highlighter as I underlined, marked, and made notes all over this book.
This book starts with instructions for an online parenting assessment. Those who have read the book will understand when I say I am a Box-Rose mom – the no-nonsense, get things done kind of mom. My kids are independent, not used to a lot of cuddles, and fully aware that mom might come roaring through like a lion at any given time.
I have always known this about myself, but to see it in actual black and white words ripped my heart into a million pieces. It broke me in ways I did not think I could be broken and made me want to change.
But then we get to see how God uses each and every type of mom exactly how he planned. He made me a Box-Rose because He wants me to be a Box-Rose. He gave my kids a Box-Rose mom because He wants them to have a Box-Rose mom. He brought my husband and I together because my husband needed a Box-Rose wife. God's plan is always perfect and He never messes up.
This book also takes our parenting personality and shows us how to use them to the greater good for our kids, our marriages, and our lives in general. Shows us how to bring out the compassion that is not always naturally there, how to discipline without always being a lion, how to love without having to be uncomfortable, and how to be the best mom God made me to be.
Not a Box-Rose mom? No worries, the books also walks through the other personality types. This just happens to be what I am, so this is the chapters I read
J
I honestly wish I could put a copy of this book in the hands of every single mom I know. It is that good. Go pick up a copy for yourself today. And get your highlighter ready – you are going to want it.
Hettie
Brittz
is an author, international speaker, and one of South Africa's foremost voices on parenting advice. She is the developer of the Evergreen Parenting Course and Tall Trees Profiles. Hettie and her husband, Gospel singer Louis Brittz, live in South Africa with their three children.