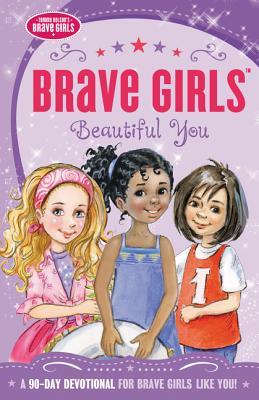 Whether you are outgoing or shy, a tomboy or a girly girl, silly or serious, it can be really hard to feel comfortable with yourself. This devotional is filled with stories and thoughts about how God created us to be healthy, strong, and confident—both with our bodies and our minds—because we are daughters of the great heavenly Father.

The goal of Brave Girls® is to encourage you to appreciate yourself as God made you and to help you grow strong in your relationship with Him.

Beautiful You

will help you really see yourself as brave and beautiful inside and out . . . just like God made you!
My Thoughts:
My daughter loves the Brave Girls, so I was excited to have the third devotional in our home. We have been reading through this one together each night and this might be my favorite one.
The world is so centered around how people – especially girls – look through their outward appearance. I can't imagine how hard it must be to be a girl having to grow up with all that pressure to be perfect. But the Beautiful You devotional takes each topic that is relevant to girls today and creates a beautiful devotional to point out how special they are to God.
The topics in this devotional have also been a great conversation starter for some of those tough questions I want to talk through with my daughter. By using this book, we are able to talk through them and also reassure her she is made exactly how God intended her to be.
Each devotional also closes with prayer pointers to help girls get started with a prayer centered around what they just studied. I have very much enjoyed having this book in our house and look forward to continued reading with my daughter.