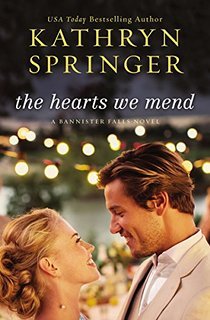 For young widow Evie Bennett, moving forward will mean deciding what to leave behind . . . and what to keep.
Widowed at the age of twenty-five when her firefighter husband was killed in the line of duty, Evie Bennett has spent the last thirteen years raising their son, Cody, in the close-knit community of Banister Falls. As the women's ministry director of her church, Evie encourages women to boldly pursue God's plan for their future . . . while she is content with her memories of the past. But Evie's well-ordered life begins to change when she meets Jack Vale.
As Evie gets drawn into Jack's world—a world that isn't as safe and predictable as the one she's worked so hard to create—he challenges her to open her eyes to the problems in the community . . . but will Evie open her heart to love again?
Because even though Jack isn't anything like her late husband, he just might be everything she needs.
My Thoughts:
When I read The Dandelion Field (first book in Banister Falls series), I found characters I really liked. With this book, I fell completely in love with those characters.
This book picks up soon after the first finishes. Evie is working on the final details of Cody's wedding, and preparing herself for an empty home. She has her job she loves at the church and the community of Banister Falls still doing their part to care for the widow. She still loves Max and still clings to his memory and her life as a widow. Until she meets Jack.
We remember Jack as the grungy man with the baseball bat from the first book. In this book, he appears as the temporary custodian at Evie's church. With the two of them suddenly thrown together it is clear they are going to form a relationship. But life just isn't that easy, huh?
Jack lives in a bad part of town and he is committed to caring for his family – including his druggy brother and family. We learn quickly that Jack is a man of God, but we also realize he is ashamed of his living situation, his background, and his family.
Jack and Evie are both reluctant to allow themselves to work towards a relationship. Evie is so sure she must cling to Max's memory forever she cannot imagine herself ever loving anyone else. Jack is so sure someone like Evie would run as soon as they learn about his background and family he will not pursue the relationship either. But of course, God is going to make happen what needs to happen!
Through this story, we get to see Evie and Jack turn to God for their own problems and their own desires. We get to see each character come to terms with their past and willingly open up about their fears and their hopes for the future. We get to see God work in each of their lives to change their attitude, their outlook on life, and their desire to be in a relationship. This is truly a story of love, redemption, and God's perfect work.
And as a bonus, we get to see Cody be an amazing husband. I had high hopes for the kid in the first book and it was great to see him doing positive things with his life and his family.
Kathryn Springer, winner of the 2007 Write Touch Reader's Award (long contemporary), grew up in a small town in northern Wisconsin, where her parents published a weekly newspaper. As a child, she spent many hours sitting at her mother's typewriter, plunking out stories, and credits her parents for instilling in her a love of books – which eventually turned into a desire to tell stories of her own.

After a number of busy years, when she married her college sweetheart and became a stay-at-home mom, Kathryn rediscovered her love for writing. An unexpected snow day from school became the inspiration for a short story, which she submitted to Brio magazine. She went on to publish over a dozen more short stories for Brio, but it wasn't until her youngest child started school that she decided to pursue her dream to write a novel. In August 2004, her Love Inspired® debut novel, Tested by Fire, was published.

Encouraging women in their faith journey is the reason Kathryn loves to write inspirational fiction. She hosts a women's Bible study in her home and volunteers in a local MOPS (Mothers of Preschoolers) ministry. When she isn't at the computer, you'll find her curled up with a good book, spending time with family and friends or walking on the trails near her country home.