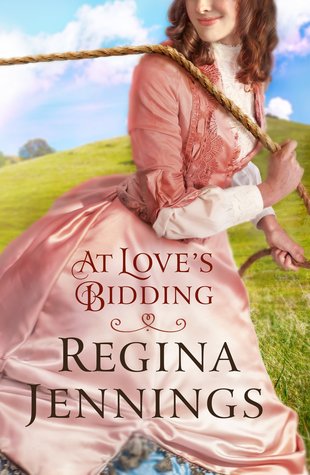 After helping her grandfather at their Boston auction house, Miranda Wimplegate discovers she's accidentally sold a powerful family's prized portrait to an anonymous bidder. Desperate to appease the furious family, her grandfather tracks it to the Missouri Ozarks and makes an outlandish offer to buy the local auction house if they promise not to sell anything until he arrives.

Upon their arrival, however, they discover their new business doesn't deal in fine antiques, but in livestock. And its manager, ruggedly handsome Wyatt Ballentine, is frustrated to discover his fussy new bosses don't know a thing about the business he's single-handedly kept afloat. Faced with more cattle than they can count--but no mysterious painting--Miranda and Wyatt form an unlikely but charged partnership to try and salvage a bad situation getting worse.
While I do not find myself madly in love with this book, I don't really have any real complaints. It was just an okay story for me.
I enjoyed getting to know the characters that we met through this book. Miranda is one of those women who has lived her entire life within the rules of society. She does as she is told and is not allowed to think for herself. However, when she accompanies her grandfather to Missouri for a business trip, we get to see an entirely new personality come through. I love the woman that Miranda became during the trip. She is willing to stand up for herself and make decisions that are for the betterment of her family. She seems to become an independent woman and I truly enjoy her character.
Her only weakness is Wyatt. Wyatt is a good-ole country boy who works hard to make an honest living. I liked him from the very beginning and found myself wishing for the best outcome possible for his life. It is apparent he has made a name for himself in his small community and the people there trust him completely. That fact made me like him even more.
This book had a great story line, but I felt that it stalled many times. I felt there were filler events and details to stretch the book out. Many of these events felt unnecessary and a little confusing to the story. Once Miranda arrived back in Boston, it felt even more stretched out. Finally, in the last few pages the story moves back along and we get to see an ending for these characters. An ending I like, by the way.
I typically enjoy stories from Regina Jennings and I still liked the overall story in this book. I just did not fall in love with it.
Regina Jennings is a graduate of Oklahoma Baptist University with a degree in English and a history minor. She has worked at The Mustang News and First Baptist Church of Mustang, along with time at the Oklahoma National Stockyards and various livestock shows. She now lives outside Oklahoma City with her husband and four children.