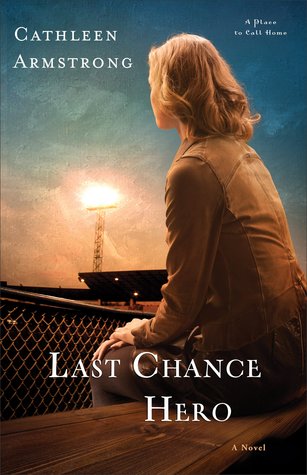 The inhabitants of Last Chance, New Mexico, could not be more pleased. Dr. Jessica McLeod has opened an office right on Main Street. Andy Ryan, the best athlete the little town ever produced, has ended his short career in the NFL and has come home to coach the mighty Pumas of Last Chance High. Unfortunately, Dr. Jess immediately gets off on the wrong foot when she admits that she's never seen a football game, isn't really interested in doing so, and, in fact, doesn't know a first down from a home run.
Meanwhile, Coach Ryan is discovering that it's not easy to balance atop the pedestal the town has put him on. When this unlikely pair is drawn together over the future of a young player--whose gifts may lie in the laboratory rather than on the football field--they begin to wonder if they might have a future together as well.
My Thoughts:
I am totally in love with this series from Cathleen Armstrong. Every time I return to Last Chance I feel like I am going back to catch up with characters who have become true friends to me.
In this book we get to meet Dr. Jess. A new physician who has chosen to make her home in a small town that she has never visited. She is completely taken aback from the small town atmosphere, and immediately makes friends with the Cooley family that we have grown to love in this series. She has only one fault – her complete lack of interest in football. Even I can't imagine not having an interest in the game of football, but Jess' character has so much charm that I discovered I was able to overlook it, haha.
We also get to know Andy Ryan. Andy was the big-shot football player that got to play in the NFL, but he's back home and coaching the high school team. It doesn't take long for us to figure out that Andy is crazy about two things – football and Jess. But his love of football runs so deep it almost becomes his fault. However, I truly loved his character and his attitude towards the new high school team. I loved that he fits right in with the Last Chance family, and he doesn't let his name become who he is.
This installment in the Last Chance series is a winner. It has all the makings of a great fall read – football, family and love. It was one of those books that I just wanted to keep reading, and was pretty sad when it ended.
Add this series to your must-read list for sure.
Cathleen Armstrong is the author of

Welcome to Last Chance, winner of the ACFW Genesis Award for Women's Fiction in 2009 and the first volume in the series "A Place to Call Home." She lives in the San Francisco Bay Area with her husband, Ed, and their corgi, but her roots remain deep in New Mexico where she grew up and where much of her family still lives.