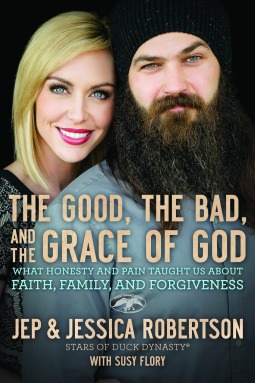 Jep Robertson, the youngest son of Duck Commander Phil Robertson, and his wife, Jessica, open up about their personal trials, their early years together, and the challenges that might have destroyed them both had the grace of God not intervened. Jep describes being molested as a child and his reluctance to tell anyone until only a few years ago, his downward spiral into drug and alcohol abuse, and the eventual intervention of his family.
Jessica shares about the difficult failure of her first marriage while still a teenager and the hurt that came along with it, much of it from the church. Her insecurities spun out of control as she wondered whether she would ever be good enough or pretty enough. This book is their love story but, more importantly, their love story for God.
"We are desperate to let people know that no matter what you've done; no matter what you've lived through, you can come out of it. You can be washed clean. You are redeemed.
I love the Robertson and have been fortunate enough to read a few of their books. The entire family inspires me with the strength of their faith and their ability to hold on to that faith through their fame.
The story of Jep and Jessica is yet another example of the faith that this family holds, and the amazing work that God can do in our lives.
Jep and Jessica both went through some very rough experiences when they were younger. Most of the background in this book was new to me, and I was pretty shocked by some of it. Both made mistakes early on their lives, and they learned the consequences of their actions pretty early on.
But both of them picked up their lives and turned themselves over to God. God began working and brought them together. He didn't give them the perfect relationship, but He guided them through the hard times and they came out on the other side.
Jep and Jessica's story is proof that God works. Through the words of this book you can easily see how much they love each other, and how committed they are to raise their family together. I enjoyed reading their story and getting a closer glimpse into another couple in the Robertson family.